Address:
Granary Court
Eccleshill
Bradford
BD2 2EF
Contact: Richard Smith
Phone: 01274 627000
E-mail: This email address is being protected from spambots. You need JavaScript enabled to view it.
Web: www.love-bites.co.uk
About Love Bites Ltd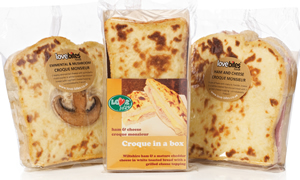 2014 marks the beginning of Love Bites 24th year in the sandwich business and makes us arguably the longest surviving wholesale sandwich manufacturer in the UK.
Husband and wife team Richard and Gill Smith built a business based on Quality and Service back in 1991 which still prevails today and this standard, set back then, is what accounts for our longevity.
Innovation has also been a large part of the Company's success and the ability to react to an ever changing consumer driven marketplace where products and packaging can change at the drop of a hat.
Sandwiches, rolls, salads, muffins, paninis, pizzas, wraps and platters are just a few of the products Love Bites have in their portfolio. Our latest amazing success is the Croque Monsieur range which has been developed over the past two years. We produce the rustic Café version alongside a unique specially developed version for the space restricted airline industry.
Alongside the "Love Bites" brand are equally successful registered trademarks such as "Lovemuffin", "Café Pronto", "Waistlovers", "Easibites", "Pizzamuffin" and "Big Apple Pizza" with others in the pipeline.
The profile of the business has changed dramatically over the past couple of years where we are now able to supply large quantities of chilled and frozen products nationwide as well as the growing export side of the business with regular consignments going to Norway. This in no way detracts from our core customer base in foodservice and retail.