Address:
Enterprise Way
Maulden Road
Flitwick
Bedfordshire
MK45 5BW
Contact Name: Sales Department
Phone: +44 (0) 1525 712261
Fax: +44 (0) 1525 718205
E-mail: This email address is being protected from spambots. You need JavaScript enabled to view it.
About Colpac Ltd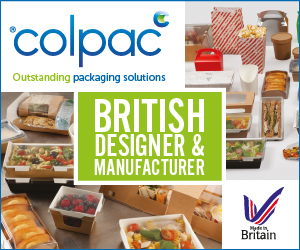 Established almost 80 years ago Colpac is a British designer and manufacturer of innovative food packaging solutions. With an 'everything under one roof' philosophy Colpac has acquired an unparalleled reputation as a leader in the creation of personalised, creative food packaging designs, from concept to production, and specialised food packaging sealing machinery.
From developing new ideas, applying existing branding to new concepts and, with the knowledge of selling worldwide, Colpac can adapt packaging to the demands of international markets. Highly proficient in creating food packaging constructed from paperboard or a combination of paperboard and plastic gives Colpac the flexibility to respond quickly to individual requirements and provide a personalised, efficient service.
This personal service underpins Colpac's mission to listen to customers and constantly improve its products. Featuring strong green credentials, each of Colpac's wide range of over 600 packaging items are created from biodegradable and recyclable materials.