Address:
The Priory
Long Street
Dursley
Gloucestershire
GL11 4HR
Sales Contact: Rhian Kinman
Phone: 01666 891116
Fax: 01666 890522
E-mail: This email address is being protected from spambots. You need JavaScript enabled to view it.
Web: www.futura-foods.com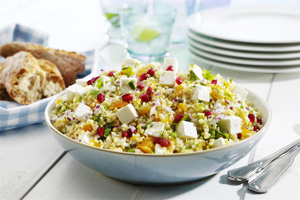 About Futura Foods UK Ltd
Futura Foods has over 20 years' experience sourcing, importing and supplying standard and bespoke Continental dairy ingredients for food manufacturing. It is our mission to offer inspirational, tailored Continental Cheese ranges to our customers in the UK and Ireland.
Our comprehensive range of Mediterranean & Mediterranean inspired dairy products includes grated, shaved, block, slices or single dose formats; most of which are chilled although we have an increasing range of IQF lines.
Now part of the Nordex Food Group we are one of Northern Europe's largest producer of "white cheese" which is available in various formats along with Goat's cheese made from our very own herds.
With our Continental distribution network, our products are delivered efficiently from agreed stock holding or direct from the manufacturing dairy.
As market leaders and one of the largest suppliers of Greece, Cyprus and Italian cheese, our proactive attitude and concentration on NPD and the final product ensures we frequently offer innovative products to launch in manufacturing, retail and food service markets.