Address:
Gierlinger Holding GmbH
Weingartenstraße 14
4100 Ottensheim, Austria
Sales Contact: Mark Seibold
Phone: 07747 621586
E-Mail: This email address is being protected from spambots. You need JavaScript enabled to view it.
Web: www.gierlinger-holding.com
About Gierlinger Holding GmbH
Gierlinger is a leading supplier of quality meat products and operates from five locations across Europe.
They employ 1,200 people in production, technical, NPD and management, and deal with food production and complex supply-chain solutions right across the continent.
Premium cooked bacon
A customer once said, "nobody produces cooked bacon that is so delicious, thin and crispy".
The production, NPD & technical teams have looked to continuously perfect the bacon's flavour, quality and yield over the past 20 years in pursuit of the perfect bacon rasher. Perfection is their passion and is to their clients' benefit.

Steam cooked & contact-roasted poultry
Utilizing the freshest raw materials from accredited EU suppliers ensures their steam cooked and roasted
chicken breast fillet products are the best they can be. Using the latest production techniques to produce the very best products that the EU has to offer, whether, off the shelf or bespoke, Gierlinger has the solution.

Food on the go
Whatever your choice Gierlinger has a solution – from authentic schnitzel to goujons, popcorn to Kiev and skewers or pork rib packs all cooked and conveniently packaged. Their motto is "convenience like home-made".
All products are produced with real care and attention to detail without the use of additives or flavour-enhancers. Real ingredients that go into producing the highest quality value-added products that give a true taste of homestyle cooking.

Sausages and ham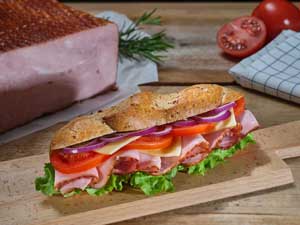 Gierlinger's traditional recipes of ham, cold cuts, air-dried sausage, fermented salami, and pepperoni products are all specialities produced in collaboration with their NPD teams across Europe their speciality range caters for all markets and tastes.

Products for all applications deliver commercially but more importantly deliver on taste.
If your business is food service, QSR, manufacturing and retail, the Gierlinger range of value high-quality products produced safely and efficiently provide you with every reason to come back time and time again.