We've been out and about in London seeing some of the latest formats from some of the UK's leading retailers. Here's what we took from the visits from a food-to-go and sandwich perspective.
1. Marks & Spencer, St John's Road, Clapham Junction
M&S's Clapham Junction store is part of a new wave of M&S stores with a very different look and feel to the rest of the estate. Together with stores in Hedge End (Southampton), Hempstead Valley (Kent) and Abbeycentre (Belfast), it sets the tone for a very different M&S proposition going forward. Warmth, colour and freshness abound, not least in the new look bakery, pizza and coffee counters, but also across the store, where almost every category has been reimagined. A focus on better for you salad and poke bowls sits at the heart of the grab and go range, many under the M&S deli brand, giving the offer considerable breadth beyond core sandwiches and wraps. A separate display table features freshly made baguettes, while another carries bakery treats.
As well as a different focus in fresh and food-to-go, there's also a different element to the food-for-later offer. The range includes fresh evening meal solutions, including items such as lasagne and chicken escalopes found on the deli counter in larger M&S sites. Food waste is also a consideration in this store - a prominently located freezer unit features bread, converted to garlic bread, and then frozen.
2. Morrisons, Canning Town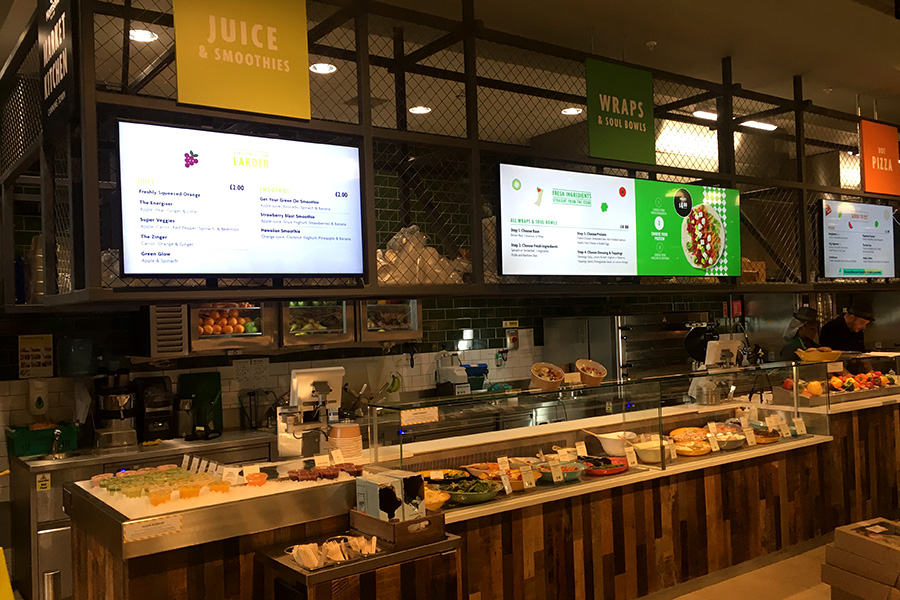 Morrisons' latest concept store, this is an urban supermarket designed around current and future shopping needs. Gone is the traditional market street, replaced by a food hall style food-to-go "street". The breadth of fresh food-to-go carried here is impressive. Wok meals, salads, wraps, fresh pizza and smoothies all feature prominently in an offer which sits alongside an impressive grab and go section on entry to the store. The offer has been trading well in the three months since opening, also trading well in the evenings, supported by a colloboration for delivery with Deliveroo. In addition to an upgraded food-to-go offer, there's a strong focus on local lines, captured to great effect for example in both soft drinks and in the craft beer offer. Environmental and ethical considerations are also a focus, with an emphasis on reuse and recycle in place across the store.
3. Co-op on the go, Moorgate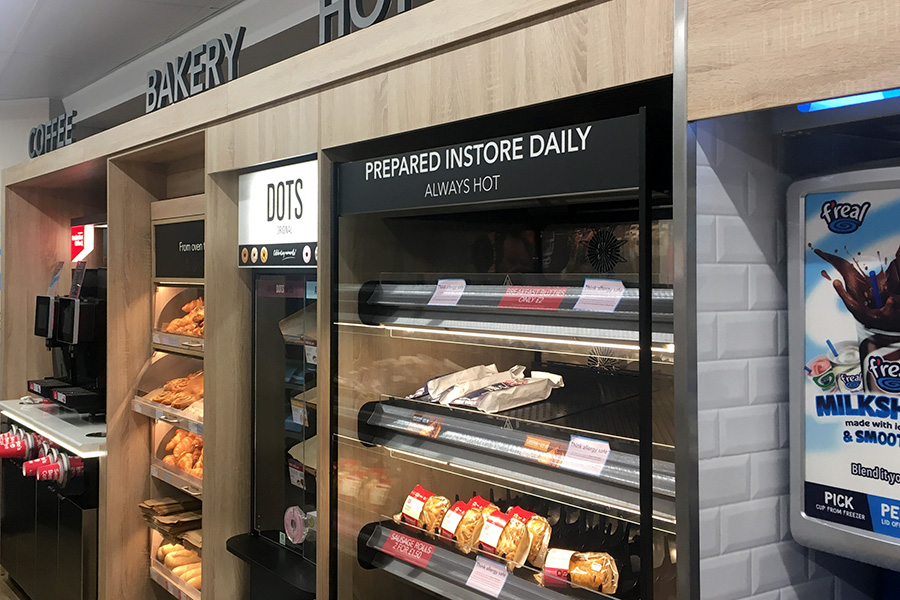 The Co-op has placed a strong recent focus on format development, and this has been very much geared around targeting food-to-go missions at the heart of its proposition. The Co-op on the go format has captured many headlines since its launch at Manchester Piccadilly in late 2017. Since then the thinking and positioning has evolved. This latest version, complete with an impressive sushi offer, upgraded hot food, Seattle's best coffee, iSqueeze orange juicer, F'real shakes and DOTS donuts, is located on London's Moorgate, and represents a step on from the other formats opened to date. Sandwiches and salads are prominently positioned in-store, as part of the food-to-go offer. All in all, an impressive format that should help take the Co-op into new food-to-go territories and missions.